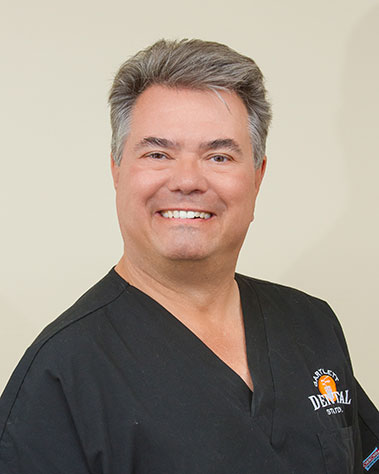 Dr. Mark Prosniewski
Dr. Mark Prosniewski is a graduate of Northwestern University Dental School and has been in practice for over 30 years. He sold his Chicago dental practice in 2012 and purchased the Bartlett Dental Station. Dr. Prosniewski has lived in Bartlett for the last 18 years. He has been active in the community as an Assistant Scoutmaster for Troop 26.
From fillings, root canals, periodontal treatment, extractions, crowns, and cosmetic dentistry, Dr. Prosniewski can take care of your dental needs! Dr. Prosniewski also restores dental implants with crowns, bridges, and even "all-on-four" restorations.
Dr. Prosniewski's mission statement: To first and foremost listen to my patients' wants and needs. Then, and only then, will I formulate a treatment plan that restores my patient's oral health while keeping their desires in mind.
Dr. Prosniewski and his wife, Joan, have lived in Bartlett for the last 18 years. He is the father of three children, Lisa, Jennifer and Will.
Meet Our Team
Dr. Mark Prosniewski leads a team of experienced professionals. We each share the belief that our care should be comprehensive, courteous, and responsive to your individual needs and preferences. We are all committed to providing you with a pleasant experience and we deliver the highest quality of care when you visit The Bartlett Dental Station. We invite you to contact us today to learn more about us!
Basia—Office Manager & Insurance Coordinator
Basia has been with The Bartlett Dental Station for over 11 years. She works hard to make sure all of our patients feel comfortable, and she enjoys how everyone here can count on each other in any situation. Basia earned a master's degree in math from the University of Warsaw and she enjoys teaching and traveling. Basia and her husband, Arthur, have two children, Alan and Paula.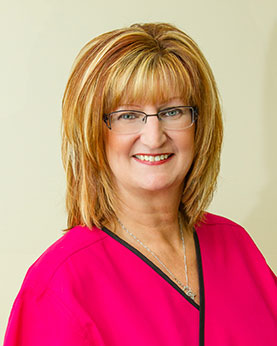 Kathi—Registered Dental Hygienist
Kathi has been treating the patients at the Bartlett Dental Station for the past 22 years. She feels that it is important to address each patient on an individual level, and she takes pride in the relationships she has built over the years. Many patients value their trust in Kathi because they know she will never compromise the quality of care she provides. Kathi will be as thorough and gentle as possible to ensure that patient comfort is achieved.
In addition to her A.A.S. and Illinois license in Dental Hygiene, Kathi is also a member of the American and Illinois Dental Hygienists' Associations and the Illinois State Dental Society; through which she attends continuing education courses in both dentistry and overall health. She feels that the best part of being with The Bartlett Dental Station is the team and great patients she works with because everyone is so nice and sincere.
Kathi's favorite past-time is any family time! She and her family have so much fun together during vacations, family game nights, or their goofy antics. Kathi and her husband, John, have three daughters named Alyssa, Julia, and Kayla. Their family wouldn't be complete without their two little Shih Tzus, Jakson and Tucker.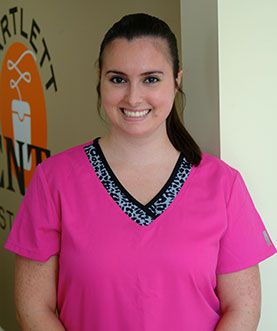 Gabbie—Dental Assistant
Gabbie is one of our newest team members who cares for our patients and always strives to make sure they come first. Gabbie graduated from the Dental Assisting Program at Elgin Community College in 2014 and is happy to be a member of The Bartlett Dental Station because the team here gets along great and acts like family. In her spare time, Gabbie enjoys singing and dancing.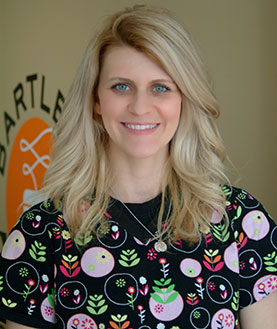 Alyse – Registered Dental Hygienist
Alyse, a Harper College graduate, has been a licensed dental hygienist with the Bartlett Dental Station for the past 4 years.  In addition to her A.A.S. degree, Alyse is pursuing her Bachelor's degree in the healthcare field. As a member of the Illinois and American Dental Hygienists' Associations, Alyse is able to keep current on the latest dental advancements and education. This ensures that her patients will be educated on the most current dental hygiene products and care.
Alyse's favorite part about the practice is that everyone can depend on each other to help out in all aspects of the office. Alyse's main goal is to provide the best care possible and to make patients feel comfortable at every appointment.
Alyse is married with boy/girl twins. As a huge animal lover, she has three rescue dogs and a cat. She enjoys exercising, reading and watching scary movies.