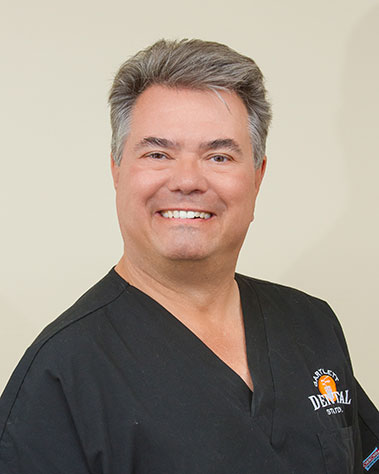 Dr. Mark Prosniewski
Dr. Mark Prosniewski is a graduate of Northwestern University Dental School and has been in practice for over 30 years. He sold his Chicago dental practice in 2012 and purchased the Bartlett Dental Station. Dr. Prosniewski has lived in Bartlett for the last 18 years. He has been active in the community as an Assistant Scoutmaster for Troop 26.
From fillings, root canals, periodontal treatment, extractions, crowns, and cosmetic dentistry, Dr. Prosniewski can take care of your dental needs! Dr. Prosniewski also restores dental implants with crowns, bridges, and even "all-on-four" restorations.
Dr. Prosniewski's mission statement: To first and foremost listen to my patients' wants and needs. Then, and only then, will I formulate a treatment plan that restores my patient's oral health while keeping their desires in mind.
Dr. Prosniewski and his wife, Joan, have lived in Bartlett for the last 18 years. He is the father of three children, Lisa, Jennifer and Will.
Meet Our Team
Dr. Mark Prosniewski leads a team of experienced professionals. We each share the belief that our care should be comprehensive, courteous, and responsive to your individual needs and preferences. We are all committed to providing you with a pleasant experience and we deliver the highest quality of care when you visit The Bartlett Dental Station. We invite you to contact us today to learn more about us!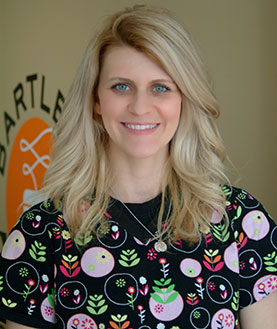 Alyse – Registered Dental Hygienist
Alyse, a Harper College graduate, has been a licensed dental hygienist with the Bartlett Dental Station for the past 4 years.  In addition to her A.A.S. degree, Alyse is pursuing her Bachelor's degree in the healthcare field. As a member of the Illinois and American Dental Hygienists' Associations, Alyse is able to keep current on the latest dental advancements and education. This ensures that her patients will be educated on the most current dental hygiene products and care.
Alyse's favorite part about the practice is that everyone can depend on each other to help out in all aspects of the office. Alyse's main goal is to provide the best care possible and to make patients feel comfortable at every appointment.
Alyse is married with boy/girl twins. As a huge animal lover, she has three rescue dogs and a cat. She enjoys exercising, reading and watching scary movies.
Chrissy – Dental Hygienist
Chrissy is a graduate of the dental hygiene program at Harper College. She has been with our team since 2016, and bring with her a great sense of humor and some sweet dance moves. Chrissy is a resident of Bartlett, and likes working in the community where she lives. Outside of the office, Chrissy enjoys crafting, cooking and spending time with her kids.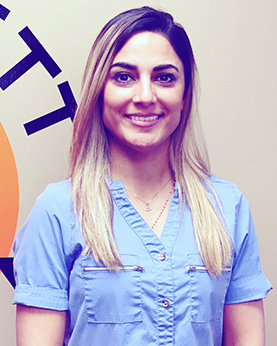 Sarah – Dental Assistant
Sarah attended Elgin Community College, graduating with honors in 2014. She joined The Bartlett Dental Station in 2019, bringing with her five years of experience in the dental field. Sarah loves being able to help people maintain healthy smiles. Outside of the office she enjoys spending time with her husband and family, going shopping and spending time with her friends.